Teemea For Businesses
Teemea for Businesses is a great tool for small, medium and large enterprises that need to improve their skills, or learn new ones. It works very well as an onboarding tool for new employees.
For large enterprises Teemea for Businesses is a great complementary tool to large software solutions. It can act as an authoring tool for fast production of educational content in the LMS, or as an additional micro-LMS for an external business network, that the enterprise cannot or must not give access to their internal LMS.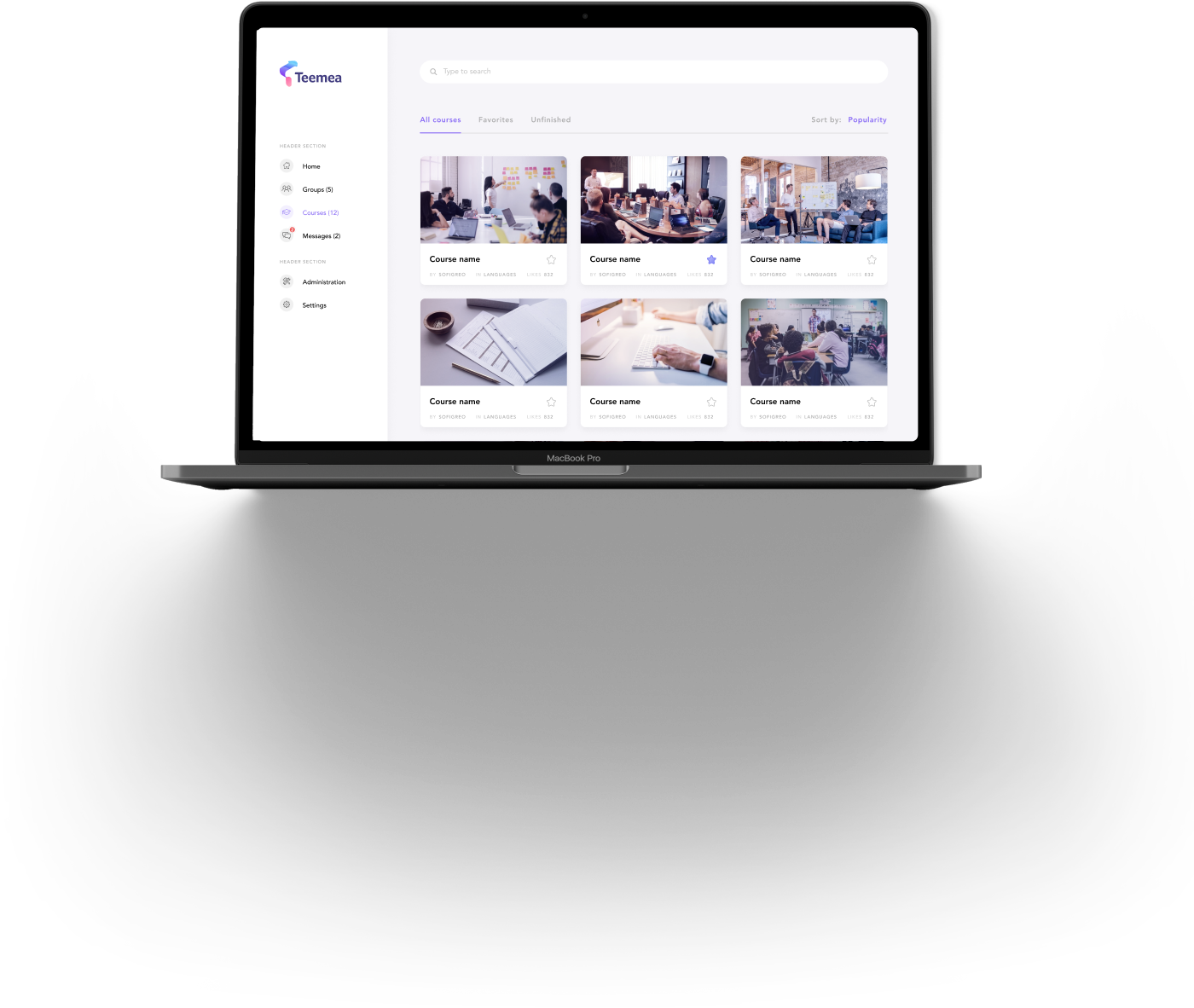 WHAT CAN YOU DO WITH TEEMEA FOR BUSINESSES?
Create a learning/training group

Quick and instant team learning

Quick sharing of know-how into lessons and courses

Save courses into a library

Give assignments and calls

Discussion (chat) in teams

Private messaging between team members

Tracking progress of learning progress

Statistics on learners' activity levels

Identification of key bearers of know-how your companies

Database administration

Live webinars (in process of integration)

Testing of knowledge and skills (coming soon)

Surveys (coming soon)
Faster onboarding and adaptation of new employees.
How much does it take for a new employee to acquire 100% knowledge and skills? Through our micro-learning platform, you can shorten this time by 50%. This is due to efficient learning through micro-lessons from experienced colleagues, team leaders and experts who quickly create interactive online courses and tasks for the new colleague and help him/her by means of instant feedback.
Training process and development – 100% return of experience (ROX) in practice.
Complement your offline training process with our platform and change the time-restricted access to know-how into permanently accessible education. When using Teemea in the training process, the readiness of trainees grows from 20% to 100%. A normal training day lasts 8 hours, while when using Teemea the learning experience is available 24/7. Also, follow-up actions of the trainees grow from 10% to 100%.
Instant updates in your team or retail / franchise network.
Use Teemea instead of emails to get feedback on whether the information has really reached the addressees, whether they have understood it and are able to apply it in practice. Track team members' activity, test understanding, discuss, assign practical tasks to verify level of knowledge and skills. Have great overview of who and where has key know-how and on the contrary, where it's missing and has to be distributed.
Teemea For Businesses
If you would like to try the Teemea for Businesses platform in your company, please fill in the form or contact us: hello@soficreo.com